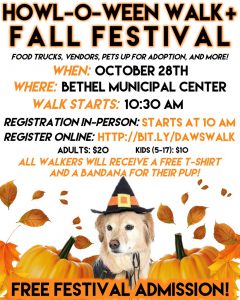 Help save lives by supporting our annual Walk for Animals!
This fundraising walkathon helps us raise funds to provide shelter, food, medical care, and love to animals in need. Visit our First Giving page to register for the walk, then set up your own personal fundraising page and help us reach our $50,000 goal. To set up your fundraising page, just follow the instructions provided after you complete your registration. We ask that all registrants raise a minimum of $100 for our cause, which directly benefits the animals in our shelter and helps us continue our life-saving work! While this is not required, it is certainly encouraged because when we all work together, a bigger difference can be made.
The Walk for Animals is a non-competitive and short leisurely walk for the entire family around the town of Bethel. Children and pets are welcome to come dressed in costume where they'll be able to enter into our "best dressed" contest to win some great prizes!
Walk Registration & Check-In | 10:00 a.m. 
Walk Kick-Off | 10:30 a.m.
Online Registration Fees | $20/adult  |  $10/child aged 5-17  |  Dogs free!
In Person Registration Fees | $25/adult  |  $15/child aged 5-17  |  Dogs free!
** With your registration, you receive a t-shirt for every walker & bandanas for dogs **
Visit https://www.firstgiving.com/event/DAWS/29th-Annual-Walk-for-Animals for more information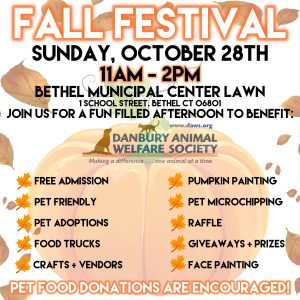 At the completion of the walk, our DAWS Fall Festival will be held from 11am-2pm featuring vendors, food trucks, activities, and giveaways! We will also be having a raffle where you can win some great prizes, donated by people throughout the community. Admission is FREE, however pet food donations are encouraged. It will be a fun day for the whole family and we can't wait to see you there!
** If interested in becoming a vendor for our Fall Festival or have a raffle prize to donate, please contact Jaclyn at social@daws.org